YMCA GUIDELINES
While the staff and volunteers of the Y go to great lengths to outline all rules and policies to ensure the comfort and safety of you, your family, and other members, it is simply impossible to foresee or communicate every situation that may arise requiring a YMCA response. The Y's management reserves the right to amend or add policies/operating rules to ensure the safety and comfort of all users. The YMCA of Bristol also understands that consistency among our staff and programs is a cornerstone of our business practice and wants all members to be met with the same rules. However, due to varying designs, space and amenities, from time to time you may see a variation to a rule or policy. Please contact the Membership Experience Director should you have any questions.
CHECK-IN
Your safety is our top priority. All members will be required to present a valid membership card upon entrance to the
facility. Member Services will then scan your card. Having knowledge of who is in the building and at what time allows
us to ensure a secure environment.
COMMUNICATIONS
There are many ways that we communicate with our members, including the following:
bristolymca.net
Email and direct mail
Facebook, Twitter, and Instagram
Mobile APP notifications
If you have any questions about your membership, please contact your Member Services staff.
WWW.BRISTOLYMCA.NET
You can visit our website for a complete list of information, classes, schedules, and special events. Members also have
the exclusive privilege of registering for programs online prior to registration opening to the public. We invite you to
share your comments through our online comment card available on our site. Members and program participants can also
manage their Y accounts online. Go to "My Y Account" to edit and add information such as an address, contact info, credit
cards, and more. Please refer to our website for the most updated information.
STAY & PLAY
Family members have the opportunity to utilize the YMCA's Stay & Play service for a maximum of two hours per day. A
parent must be in the facility at this time. This YMCA service is intended for children six weeks to five years old. Our
program is considered a childminding service, which means that a parent must be able to resume responsibility for his
or her child's supervision within 30 minutes. See the following pages for options for youth ages five and older. These
additional guidelines apply:
Due to severe food allergies, please refrain from bringing food into Stay & Play.
Ensure your child has been fed prior to his or her stay; scheduled feedings are not conducted. (To comfort young
ones, we will administer bottles.)
Please fill formula bottles, change your child's diaper and/or take your child to the restroom before entering
Stay & Play. Diaper changing can be provided.
Children must wear closed-toed shoes; no sandals or flip flops are allowed.
Sick children are not permitted in Stay & Play. A sick child is defined as a child who has: a fever within
the last 24 hours, diarrhea, vomiting, rash or open sores, cough, cold symptoms, lice, etc.
Stay & Play staff will not administer medication to your child.
Positive discipline such as redirection and logical consequences will be used when behavior problems arise.
Chronic problems may result in suspended privileges for a period of time.
Stay & Play staff will locate a parent if a child cries for a prolonged period of time (every effort will be
made to soothe the child).
Please do not allow your child to bring any toys from home. This will avoid toys being lost or broken.
PROPER ATTIRE
Appropriate attire must be worn at all times. This includes sneakers or other appropriate, close-toed footwear and acceptable workout attire. Clothing must reflect the YMCA core values. Explicit language or inappropriate graphics are not allowed. Immodest or revealing attire is prohibited.
MEDICAL EMERGENCY
YMCA staff members are CPR, First Aid, and AED (automatic external defibrillator) trained and certified. AEDs are
available. Please see a staff member if someone needs assistance.
EMERGENCY PLAN
The YMCA of Bristol has established emergency procedures. Staff have been trained to adhere to this plan, which covers
injuries, cardiac arrest, evacuation, power failure, natural disasters, loss of communication, and more.
WIFI
We are pleased to be able to offer free WiFi to everyone using our facility. The network is called YMCAGuest, and the
password is ymca4000.
SECURING VALUABLES
Please safeguard your valuables inside the Y. If you don't have a lock to secure items, locks are available to purchase
at Member Services. The Y is not responsible for lost, stolen, or damaged personal property.
LOST AND FOUND
Members are encouraged to inquire at the front desk regarding a lost item and may be asked to describe the item when
making a claim. The Y will take reasonable precautions to ensure that claimed items are returned to the rightful owner
at request. Items found that do not pose a health risk and are considered to have a monetary value will be retained for
30 days. After such time the Y will consider the property abandoned, and it will be discarded or donated to a charitable
agency.
CELL PHONES
Cell phone usage is NOT permitted in the pool, Nautilus area, free weights room, group exercise classes, locker rooms, or
bathrooms. Cameras on cell phones are not to be used in the YMCA at any time.
GUESTS
Our first priority is to serve our members who have made a commitment to the Y by joining.
The purpose behind our guest policy is to enhance member service to current members who are encouraging a friend to join and make reasonable accommodations for members.
Must be accompanied by a member (18 years old or older)
Guest can only visit 3x per year
$15 guest fee per person, per visit
Centers can restrict guest usage, hours of usage and area of usage with or without notice to ensure the safety and comfort of members.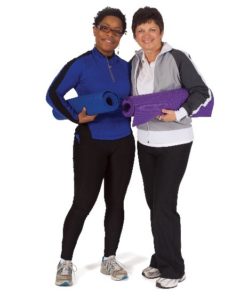 NATIONWIDE MEMBERSHIP
At the Y, we encourage our members to live their healthiest life and to utilize our facilities as often as possible.
Sometimes it's more convenient to use a Y in another location when you are traveling, working, or just visiting another
region. As a valued YMCA member, you have the flexibility to use other YMCA facilities throughout the country at no
extra charge. Simply present your YMCA membership card and photo ID at participating YMCAs and enjoy complimentary
access. Because each YMCA is autonomous, not-for-profit, and not a franchise,
local YMCA policies vary on the use of equipment, facilities, services and programs by visitors. If you plan to visit
another YMCA, it is always a good idea to call that YMCA about visiting member policies.
FINANCIAL ASSISTANCE
The Y offers financial assistance to those in need through our Open Doors Program. We strive not to turn anyone away due
to his or her inability to pay membership or program fees. Partial subsidies are available due to the generosity of
members and friends who make gifts to the Y's annual campaign. Subsidies are based on the individual's demonstrated
ability to pay, the Y's ability to fund the subsidy, and the space available. For more information about the Open Doors
Program, please contact Member Services.
CHANGES
Please inform Member Services if a change has been made to your address, phone number, bank draft (if applicable), or
family member status. It is also important to notify Member Services if you or a family member has a health concern.
Membership records and cards are the property of the YMCA of Bristol.
LOST CARD
Please inform Member Services if you have lost your member identification card, and they will provide a new one.
PROGRAM REFUNDS
If the YMCA has to cancel a program, you will receive a full refund. If you have to cancel after signing up for a
program, prior to the start date, the YMCA will provide you with either a 100% credit to be immediately applied toward
another program, or a full refund. The YMCA will provide a 100% refund if you have to cancel for medical reasons. No
refunds or credits can be given after the program begins. If an individual misses or must drop out during a program for
medical/family emergencies, classes may be made up where space is available. All credits are nontransferable. Camp
deposits (to secure camp sessions) are nonrefundable.
RETURNED PAYMENTS
Returned checks, EFT or credit card transactions will be assessed a returned payment fee.
CANCELLATION
As per the membership application, we require written notice prior to the end of the current month to stop the next
month's draft. Your membership will terminate at the end of the month we receive the cancellation request. Please
contact the Membership Experience Director for a copy of the cancellation form.
SOLICITATION
To ensure the comfort of our members, the Y does not allow solicitation of outside business or services in YMCA centers
or program areas, except when there is an approved partnership.
ALCOHOL/SMOKING/TOBACCO
The Y is a tobacco-free and alcohol-free zone. Alcohol consumption, smoking, vaping, chewing tobacco and drinking are
prohibited on YMCA property.
AGE GUIDELINES
Guests
Ages 18+ may use any part of the facility without supervision.
Ages 0-17 may access age-appropriate areas (as listed below) under direct supervision of an adult.
Membership
Ages 12+ may join as individuals, however, youth ages 12–17 must have a parent or legal guardian sign
the membership agreement and waiver.
Facility Use
Ages 16+ may be considered the supervising guardian for siblings age 11 and younger when using YMCA
facilities provided responsible and appropriate behavior is exercised at all times.
Ages 12+ may use YMCA facilities without adult supervision unless posted otherwise.
Ages 10–11 may use designated areas of the facility provided their parent/ guardian is on the premises
and they have completed a facility orientation with their parent/guardian.
Group Exercise
Ages 12+ may participate in all Group Exercise classes without a parent or supervising guardian. (Once they have completed a Teen Orientation)
Ages 8-11 may participate in all Group Exercise classes with a parent or supervising guardian except
those that utilize weights or bikes.
Health & Wellness
Ages 18+ may use steam rooms and saunas.
Ages 14+ may use all wellness equipment without adult supervision.
Ages 12+ may use Nautilus, Cardio Machines and Free Weight room without supervision after completion of a Teen Orientation.
Ages 10-11 may use Nautilus and Cardio Equipment with a parent or supervising guardian on the premises,
after completion of a Wellness Orientation.
Ages 8-9 may use Nautilus and Cardio Equipment with direct supervision of a parent or guardian, after
completion of an Wellness Orientation.
Aquatics
Ages 12+ may use the swimming pools without adult supervision.
Ages 10–11 who complete the requirements of the swim test may use the swimming pools if their
parent/guardian is physically on YMCA premises.
Ages 0–9 may use the swimming pools if they are under the direct supervision of a parent or supervising
guardian. Non-swimmers must be within arm's reach of a parent or supervising guardian.
Locker Rooms
Women's Health Center is for females, ages 11 and under must have an adult.  Ages 12+ may use locker rooms without supervision.
Changing rooms are also available to those who require special assistance or parents assisting an opposite gender child.
Youth Areas
Ages 12-18 may use the Teen Center without a parent.
Children under age 12 may use the Teen Center with direct supervision of a parent.
Kids Gym is for ages 6-11 during staffed hours. Outside these hours, children of all ages may use the
space with the direct supervision of a parent or guardian.
Stay & Play is for ages 6 weeks-5 years old during staffed hours, and parents can drop their kids
off for up to two hours a day while they remain in the building.
POOL GUIDELINES
YMCA swimming pools may only be used when a lifeguard is on duty.
Please shower before and after using the swimming pool.
Persons with open cuts, sores, or blisters are not permitted in the swimming pool.
Children who are not potty-trained must wear a swim diaper or plastic pants (disposable diapers are not
permitted).
Please use appropriate changing facilities (on-deck changing of any age is prohibited).
A parent/guardian must be supervising his/her children ages 0-9 at all times. Non-swimmers must be within arm's
reach of a parent or supervising guardian at all times.
Children ages 10–11 may use the pool only if a responsible adult is on the Y's premises and the child has
completed the requirements of the YMCA of Bristol Swim Test. Please refer to the member guide for all age
guidelines and definitions.
Swimmers must wear appropriate swimwear (no jeans or cut-offs; swimsuits only). The Y asks all members to
remember the family environment and choose the style of your swimsuit accordingly.
Children wearing Coast Guard approved flotation devices and non-swimmers must be within arm's reach of a parent.
Water wings (arm floaties) are not permitted. The Operations Director may make exceptions based on the special needs of the swimmer and inspection of the device.
Glass or metal objects are not permitted in the pool area. Food, chewing gum, tobacco products, and alcohol are
not permitted in the Y's aquatic environments.
No diving. Feet-first entries only. Flips, spins, or back dives are not permitted from the side of the pool.
Hanging on lane lines, safety ropes, and basketball hoops is not permitted.
No squirt guns or balls are permitted.
Running, horseplay, pushing, carrying people on shoulders or dunking is prohibited in the swimming pool or deck
area.
Prolonged underwater swimming or breath-holding (and hyperventilation) is not permitted.
Fins and snorkels are only permitted in lap lanes. On occasion during peak demand, the Operations Director may
restrict usage of fins to ensure the safety of other swimmers.
Mermaid tails or monofins are not permitted.
When the whistle blows, look to a lifeguard immediately! Any act deemed unsafe by the lifeguard or management
will not be tolerated.
YMCA management may close the pool at any time to ensure the safety of patrons. All pools will be closed for at
least 30 minutes when nearby lightning and/or thunder is observed.
Deck surrounding the pool must be kept clear of baby equipment and toys.
One person at a time is permitted on the slide. Feet-first entries only.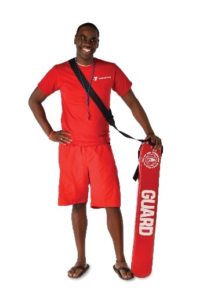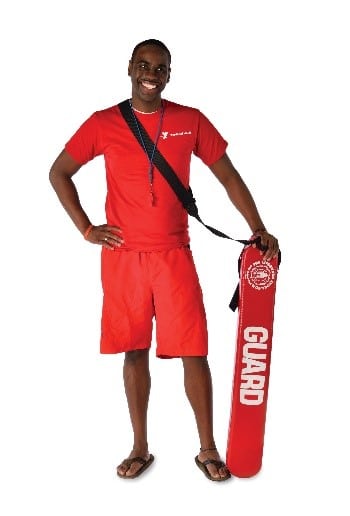 SWIM TEST/ SWIM NECKLACE
Children ages 3-12 must complete requirements of a swim test to be allowed to swim without a parent or supervising
guardian being within arm's reach at all times.
Comfortably swim one length of the swimming pool (25 yards) without assistance starting in the shallow end of
the pool.
Pausing is allowed for the swimmer to rotate and breathe.
Type of stroke or combination of strokes allowed: freestyle (front crawl) and/or breaststroke. The swimmer must
remain horizontal on top of the water and have some level of proficiency of the swim stroke. The swimmer may
float or swim on his/her back periodically. Underwater swimming is not permitted.
At the end of the 25 yard swim, the swimmer must tread water for 30 seconds.
The swimmer exits the pool either by steps, ladder or side.
To test confidence in deep water, the swimmer jumps into the deep end of pool, resurfaces and exits the pool by
steps, ladder or side.
Upon successful completion, a complimentary green swim necklace will be awarded, which notifies the lifeguards
of the child's ability to swim.
Swimmers who have completed requirements of the swim test must wear their necklace at all times while in the
pool.
For the safety of all children, sharing of necklaces is not permitted.
GENERAL WELLNESS GUIDELINES
Wear appropriate exercise attire.
Wear proper athletic footwear, this includes sneakers.
Place personal belongings in designated areas.
Please use all equipment properly.
Leave equipment in assigned areas.
Wipe down equipment after each use.
Share the equipment by allowing others to work in.
No outside personal training.
No horseplay or undesirable language.
Water and sports drinks in enclosed containers are permitted in most areas.
If you have questions about anything, please ask for help! We offer free orientations.
Please be safe and courteous.
Gymnasium Guidelines
Scheduled activities have priority; please refer to the schedule.
Must wear shirts.
Please wear non-skid, non-marking shoes only. Court shoes are preferred.
Please do not bring food or drinks into the gym.
Please do not dunk on the basketball rims.
Please do not hang on rims.
No rough play.
Free Weights/Nautilus Guidelines
Orientations are strongly encouraged prior to using the equipment.
Use a spotter when possible.
Please do not use chalk.
Use collars on all barbells.
Do not rest plates on the floor, machines, or walls.
Re-rack plates on assigned racks.
Bring weights to rest gently.
Return all crossover cable handles to places provided.
Cardio Guidelines
30-minute maximum on cardio machines during peak hours.
Group Exercise Studio Guidelines
Please re-stack battle ropes and return bikes/equipment to their positions when you are finished.
No climbing on the TRX rack.
Please clean all equipment used and return to its proper place.